Choosing A Tooth Bleaching Product for a Brite Smile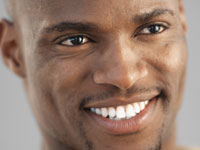 Advanced dental techniques now provide consumers with exciting, new options for enhancing their smiles. Revolutionary methods are now available for teeth bleaching to make smiles sparkle!
Teeth bleaching or tooth whitening lightens the color of teeth whether darkened from age, coffee, tea or tobacco. Its brightening effects can last up to five years after the treatment depending on your personal habits.
Is Teeth Bleaching Right for You?
Tooth bleaching has a higher than 90% success rate. It is tough on stains but gentle on your teeth! Results vary depending on whether or not your teeth are stained from smoking, from taking certain medications such as tetracycline during tooth development, or from fluorosis, a condition occurring when too much fluoride is used.
Teeth Bleaching will not lighten fillings or artificial materials used in dental repair such as dental crowns, porcelain veneers, etc. Your dentist may discourage treatment if you have sensitive teeth, periodontal disease, teeth with worn enamel or if you are pregnant or breast-feeding.
Several Options for Bleaching are Available
Some teeth bleaching treatments are performed in the dental office using an in-office tooth bleaching system, such as laser bleaching. This method lightens teeth instantly.
The same results may be obtained more economically through dentist-supervised, at-home teeth bleaching, but takes longer to achieve. Some tooth bleaching systems, which bleach your teeth while you sleep, work in 10 to 14 days (or more accurately nights)! Others bleach your teeth from two to four hours a day requiring three to six weeks to complete.
It's important to know that certain types of stains respond better to different types of teeth whitening materials. In such cases, your dentist may recommend one method over another.
Five Steps to a Bright Smile
Your dentist will first examine your teeth and gums and discuss the procedure best suited to your individual needs. Any cavities or gum problems must be treated before teeth bleaching can begin.
The in-office method generally takes one to three hours and results in an immediate, noticeable change.
For the at-home tooth whitening treatment, special molds will be made of your teeth; these will be used to make custom-fitted flexible trays to hold the tooth bleaching gel comfortably in your mouth.
When you get your teeth bleaching trays, you'll receive instructions about wearing them. These instructions must be carefully followed. Only the tooth whitening product materials provided by the dentist can be safely used.
After completing the treatment, your teeth will be checked by your dental provider to discuss the results.
Flash your new bright smile. Your teeth will radiate a bright new look!
Safety
Research over the last five years has proven tooth whitening products to be both safe and effective. The American Dental Association's seal of approval has been given to a wide range of teeth bleaching products. Generally, the only side effect from treatment may be some sensitivity to hot and cold foods. If this occurs, sensitivity normally disappears within 48 hours.
By Brian J. Gray, DDS, MAGD, FICO
Cosmetic Dentistry for a Perfect Smile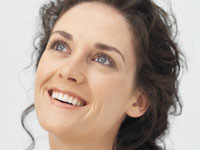 In most cosmetic dentistry practices, good health and sound oral function are their primary goals. But these days, both can be achieved with a third factor in mind, good looks.
Good looks are all around us. In consumer magazines, TV, media, politics, and business. Both men and women are flashing bright, near perfect smiles. It's a pleasure to see. We're not all born that way, and they probably weren't either. Dental makeovers have contributed to a large part of the self-esteem of models, movie stars, and recently, the grocery clerk or the grandmother next door, who seek cosmetic dental care.
Surprisingly, most tooth restoration procedures are fairly conservative. That is, removal of healthy enamel is kept to a minimum, or dispensed with altogether. Teeth bleaching, tooth bonding and contouring are quick, easy, and fairly inexpensive. Porcelain veneers lend new form and youthfulness to front teeth. Tooth-colored fillings can replace discolored amalgams. A new denture can restore a more youthful appearance. The choices are yours.
Notice the people you know who are proud of their teeth. They smile more often. Great teeth build self-confidence. Most people respond more readily to an attractive smile in a very positive way. The psychology is simple, the impact great.
We are lucky to have new materials and techniques that make a beautiful smile within everyone's reach. Take advantage of cosmetic dentistry, for yourself and the people around you.
Give your cosmetic dentist a call today to find out how your smile can benefit from today's technical innovations.