Dental Crown Lengthening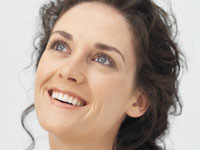 There are two reasons why individuals need a dental crown lengthening procedure: to properly restore a tooth or to make a "gummy smile" more attractive and cosmetic dentistry can help with both.
To properly restore a tooth, several millimeters of healthy tooth structure must be available above the crest of supporting bone. However, this often is not the case when teeth are fractured, severely decayed, or worn. If enough tooth structure is not available, and the restorations are placed too close to the bone, the body reacts by creating a chronic inflammatory reaction that can create red, swollen, and sensitive gums. The gums can bleed easily and even become painful. Eventually, the inflammatory reaction may lead to bone loss around the tooth. To prevent these problems and to properly restore the tooth, the patient should have a dental crown lengthening procedure before restorative treatment.
The gummy smile may be the result of gum tissue growing over teeth that are of proper size. Often times teeth that appear small are, in fact, normal-sized teeth that are hiding under excess gum tissue. Dental crown lengthening removes the excess gum tissue and establishes a more appealing gum line.
What to Expect from Dental Crown Lengthening
Dental crown lengthening is a surgical procedure in which gum and bone tissue is removed from the circumference of the tooth. It is done in the dentist's office with local anesthesia (lidocaine). One or several teeth can be treated at the same time. After carefully reshaping the gum and the bone to expose healthy tooth structure, stitches (sutures) are placed to aid in healing. The stitches are usually removed five to ten days after the surgery. Follow-up appointments are scheduled as necessary to evaluate healing and plaque control. The gums should be allowed to heal for six to eight weeks before making any new restorations. At that time, the gums are more stable and better esthetic results can be achieved.
Post-surgical discomfort can last a few days and is usually minimal. It can be easily managed with commonly available over-the-counter medications such as aspirin, acetaminophen, or ibuprofen. Patients can expect to follow their normal routine the day after surgery.
Benefits of Dental Crown Lengthening
Crown lengthening is recommended to properly restore a broken down tooth or to improve the esthetics of a gummy smile. If a general or cosmetic dentist does not frequently do surgeries, he or she may refer the individual to a periodontist who specializes in dental crown lengthening.
By Laura Minsk, DMD
How Do I Care For My Perfect Teeth After Visiting a Cosmetic Dentist?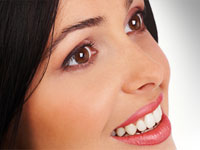 Have you had esthetic enhancements to your teeth or just naturally have great looking, perfect teeth? Here are some dentistry tips to maintain your picture perfect smile.
n order to maintain a healthy smile, you have to know what types of things are damaging to the teeth. Identifying and eliminating bad oral habits is the key to retaining a great smile for many years. Sometimes we are not aware that we are harming the health of our teeth. Do you:
Grind your teeth?
Casually bite your fingernails or a pen?
Crunch ice?
Have a diet high in sugar (such as soda, chewing gum and candy)?
Drink coffee, red wine and tea? Smoke or chew tobacco?
Force your tongue against your upper teeth?
If you answered yes to any of these questions, you are in danger of causing a detrimental effect on your new perfect teeth and smile.
How Detrimental Are the Effects? No one can predict the exact effects that the habit will have on your newly perfect teeth, however, the longer the duration of the habit, the greater negative effect it will have on the longevity of your smile enhancements.
How Can I Eliminate My Bad Oral Habits and Protect My Perfect Teeth?
The first step to eliminating a bad habit is to identify and acknowledge that you have one. If your habit is crunching ice, you must alter or eliminate it from your day-to-day routine.
Other habits are harder to break like grinding your teeth. Grinding the teeth is generally an involuntary action and usually occurs when asleep. Because the habit is difficult to break, a plastic night guard is the best solution to prevent excessive wear of your teeth.
A night guard is a clear plastic mouthpiece that is custom-fitted to snap over your teeth, much like an athletic mouth guard. The night guard is designed so your teeth grind on the plastic, not your teeth. The night guard will wear out, but your teeth will not.
Do not neglect your teeth, especially if you have had esthetic enhancements. Your enhancements will not last forever, so in order to preserve your perfect teeth, have regular dental check-ups and do your best to eliminate bad oral habits.
By Benjamin O. Watkins, III, DDS