The Artistry Of Tooth Bonding and Dental Crowns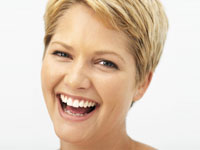 Throughout history, dentists have tried to recreate the function and beauty of natural teeth when tooth structure has been lost. Restoring function used to be the main goal of a dentist because prior to the 1970's, dentistry lacked the proper technology to achieve fine esthetics as well as function. Dentists could only predictably offer patients a restoration that would simply "fill" the empty space. Today, dentistry has more advanced dental materials and newly developed techniques that allow dentists to offer artistically-recreated, natural-looking crowns and modern tooth bonding that would fool even the most critical eye.
Before you can understand how crowns and tooth bonding can mimic teeth you must understand why natural teeth appear as they do.
What Color Are Your Teeth?
It is a common mistake for patients to think that their teeth are all one color. Your teeth are never just one color. They are a series of superimposed translucent layers of varying shades. Teeth also have different surface textures that reflect light in ways that affect the color of your teeth.
Your teeth are made up of three layers: pulp, dentin, and enamel. Each layer has a specific thickness, composition and structure. Additionally, the way light reflects off of or transluces through the layers gives you the color of your teeth. Using knowledge about the three layers of teeth allow dentists and dental technicians to recreate natural-looking dental crowns and tooth bonding.
Who Makes the Crowns?
Dental crown technicians are the true artisans in dentistry. Dentists begin the crown-making process by reducing the size of the tooth, making an impression of the reduced tooth, and selecting the proper shades of the tooth. This information is then transferred to the dental technician so a crown can be made.
Dental technicians blend science with artistic knowledge to recreate natural-looking teeth. Artistically, they use frame and reference, proportion and idealism, perspective and illusion as well as symmetry to mimic nature. Understanding the language of colors and using new dental materials and techniques has allowed the dentist to not only "fill" missing spaces but create cosmetic dentistry artwork from crowns and tooth bonding as well.
By Benjamin O. Watkins, III, DDS
Considering Porcelain Veneers?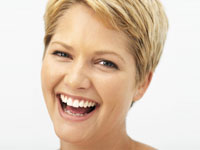 Maybe you've thought about cosmetic dental work - but felt a little vain to consider it.
Or the appearance of your teeth never bothered you much, because your dental health is pretty good.
But fixing a small functional problem can sometimes yield wonderful, unanticipated dividends. Mary, for instance, had a few dental imperfections most of us could live with. But she was hampered from time to time by a lispy "s" sound.
Mary had gapped teeth, a diastema, which caused a slight but noticeable speech defect. She also showed evidence of life in the fast lane, too: teeth worn down, probably from nervous clenching of the jaw muscles or grinding teeth.
In Mary's case - and every case is different - porcelain veneers saved the day. Her cosmetic dentist began with a functional and esthetic evaluation to determine what shape and contour would best solve Mary's diastema problem. More tooth length was proposed, to give her a more youthful, proportioned appearance, too.
Impressions were taken, and sent off to the lab for fabrication. On the next visit, her teeth were cleaned and etched chemically, the dental veneers were cemented into place, and "cured" with a special light to seal them.
Mary's speech problem evaporated. Dentistry fixed that. But cosmetic dentistry did more than perfect her speech.
WHEN FUNCTION = BEAUTY
Like an acrylic fingernail, veneers cover the front surface of the teeth.
Porcelain dental veneers
are strong and, by the way, look great.
As an architect of more that 60 years, I have learned that only the beautiful is practical. And universally, anything that is truly practical, functional, and useful is beautiful.
-Frank Lloyd Wright