A Beautiful Smile and Your Cosmetic Dentist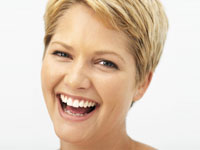 Everyone knows Mona Lisa's smile, but who knows what she meant by it?
Why do we smile?
Psychologists tell us that, in our ancient past, a smile was a gesture of appeasement. They also believe that, to modern man, a smile signals many different messages - recognition, sympathy, apology, lessening of tension, confusion, embarrassment, doubt, joy, delight. A smile, social observers agree, is a mask behind which we can hide our true feelings.
This mask is a complex gesture. First the corners of the lips curl upward. Then, as the smile grows, front teeth are exposed. In our culture we consider people with glistening white teeth and a beautiful smile to be "good" people. Bad teeth, on the other hand, tend to distort the smile "message" because, curiously, we subconsciously judge others by their teeth.
The Eyes Don't Have It - The Teeth Do!
Some people believe that teeth are a more important element of beauty than the eyes.
Have you noticed that, in the movies and on TV, the "good guys" never have broken teeth or a missing tooth? The "bad guys" almost always do.
What Does Cosmetic Dentistry Have to Do With Facial Beauty? Everything!
Nearly all dentistry affects our appearance, and our appearance affects our sense of personal worth. Among the many things that a cosmetic dentist can do to give you a beautiful smile are:
Teeth bleaching to remove stains caused by plaque, coffee, cigarettes
Teeth Whitening
Covering worn teeth (ground down by age or deformity or chipping) through application of dental crowns, dental bridges, or other cosmetic dental techniques
Teeth Straightening (orthodontics) for adults as well as children, to improve appearance and to provide better chewing surfaces
Shortening a long face, realigning a protruding jaw, correcting a cleft lip through dental surgery
So … cosmetic dentists are scientists, clinicians, artists and image-makers!
I Had a Root Canal and Now My Tooth Is Dark. How Can I Get My Bright Smile Back?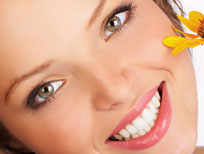 It is not uncommon for teeth to turn darker in color either before or after being treated with a root canal. Deposition of pigment within the tooth from the nerve, usually due to major trauma, can cause the tooth to turn either gray or brown. What happens is a reactive process causing calcification within the tooth can cause it to turn yellow. The treatment to regain your bright smile now depends on both the type and the severity of the color change.
Treatment Options
Internal Dental Bleaching
By far the easiest way to correct the color is by dental bleaching the tooth. The procedure for this is different than for conventional dental bleaching, where you are whitening all of your teeth.
The technique involves your dentist or endodontist placing a small amount of extremely strong dental bleaching material inside the tooth where the nerve was. It is placed through the small hole in your tooth through which the root canal was done. A temporary filling is then placed to seal in the tooth whitening material for three to four days.
The tooth will start to lighten almost immediately, and you will often see improvement on the night that it was placed. You will have to return to your dentist to have the dental bleaching material replaced because its effectiveness decreases over time. It usually takes two to three applications to regain your bright smile.
Once the tooth is lightened, a permanent filling will be placed. This procedure is very stable and it works best for teeth that have turned brown or gray. Even though the tooth color is lightened, it is difficult to obtain a perfect match with your other teeth.
Bright Smiles with Dental Veneers and Crowns
Another treatment option is to use a restoration to cover the tooth to mask the color change. The type of restoration needed will vary depending on how dark the tooth is and how much lighter it needs to be.
For teeth that are slightly to moderately dark, the best restoration is a porcelain veneer. Porcelain veneers are thin restorations that, when bonded to the tooth, can change both its shape and color.
Because of the thinness of the porcelain veneers, the color may show through the veneer if the tooth is too dark. Therefore, they are most successful for treating color changes that are not severe. For extremely dark teeth, a crown may be indicated to help mask the color.
It is important to note that although a crown or veneer may mask the darkness from the tooth, there may still be some darkness from the root that can show slightly through the gum tissue. The effect of this will vary depending on how dark the tooth is and the type of gum tissue.
A darker tooth with thinner gum tissue is more likely to have the dark color show through than a lighter tooth with thicker gum tissue. This darkness may not be a factor if the lip does not move up high enough to show the area at the gum line when smiling. If it does show and is an issue, the treatment will most likely need to include dental bleaching of the tooth, as previously discussed, with or without a restoration.
By Greggory Kinzer, DDS, MSD