What's a Temporary Dental Crown?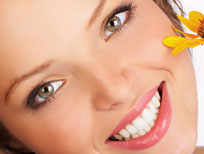 When you decide to have crowns done, especially if they involve your front teeth, you will want to be able to give your input regarding how the final crowns will look. One way to do this is with temporary dental crowns. When your teeth are prepared for crowns, the dentist will place temporary dental crowns for you to wear while the final crowns are being made.
What Are the Main Purposes of Temporary Dental Crowns?
Temporary dental crowns eliminate any tooth sensitivity by achieving a seal around the tooth.
They also can keep your gum tissue healthy by recreating the contour of your real teeth. Keeping the gum tissue healthy is of prime importance when it comes time to place the final dental crowns. If the gum tissue is not healthy when the final crown is cemented, there may be contamination of the cement, which can result in a poor bond and/or sensitivity.
They maintain the current position of your teeth by keeping contact with the opposing teeth when you bite and by contacting the adjacent teeth. This is important because all teeth can move and even a slight amount of movement can prevent your permanent tooth crowns from fitting correctly, requiring either a lot of adjustment or having it remade.
Finally, the temporary dental crowns should act as blueprints for the final crowns. It is during this time that you can give the dentist your input regarding the position and shape of the teeth (for example, if the teeth are too long, too short, too square, etc.).
Care of Your Temporary Dental Crowns
There are some differences between temporary dental crowns and final crowns that you should be aware of. Temporary dental crowns are made of a different material, usually some sort of a plastic or acrylic. Since these materials are not as strong as your own teeth, you will have to be careful of what you eat. You should avoid hard foods such as nuts, and tough foods such as bagels or French bread.
Another difference is that temporary dental crowns are cemented on with a dental cement. The reason for this is that the cosmetic dentist will need to be able to remove the temporary dental crowns when it is time to cement the permanent ones. Since the cement is not as strong, sticky foods may cause them to come loose.
If your temporary dental crowns come off or are loose, you should call your dentist so that they can be re-cemented. It is important not to wait, as the tooth may be sensitive, it may move, or, if a long enough period of time passes, the tooth may get decay. As far as home care, your temporary dental crowns should be cleaned with a toothbrush, just like your own teeth. When flossing, though, it is important to floss towards the gums and then slide the floss out by one end rather than lifting it back up through the teeth. This will help ensure that your temporary dental crowns do not come off while flossing.
By Greggory Kinzer, DDS, MSD
Dental Makeover: Does My Smile Make Me Look Older?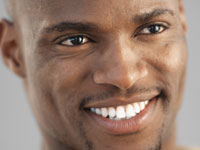 When you look in the mirror, what do you see? Is the reflection you see not quite what you used to see? Do you say to yourself, "I don't feel any older, but I see an older person." Getting older is an inevitable process, but you don't have to look older, too.
When it comes to looking younger, there are all sorts of products and procedures available so you can look your best (such as anti-wrinkle gels, cosmetics, skin treatments, facelifts and day spas). One of the procedures that is the least emphasized, but can have a profound yet subtle effect, is an improved smile from a dental makeover.
Why Does Your Smile Look Older?
It's typical that most adults don't realize that their smile is not as bright as it used to be. Coffee, tea, red wine, smoking, and the normal, and sometimes heavy, wearing away of tooth enamel have cumulative effects on the teeth. As we age, our smile begins to look a little discolored.
Old dentures can become yellow or gray, which will make your smile appear older. In fact, dentures will naturally pick up stains and wear down faster than our natural teeth. If you have had the same dentures for more than six years, they require a dental makeover. New dentures should be made every six to ten years and relined every three to five years.
How Can a Dental Makeover Make My Smile Look Younger?
The fastest and easiest way an esthetically minded person can get a dental makeover is through bleaching or tooth whitening. It can be achieved either through an at-home or in-office process. Now, there are over-the-counter products that will whiten your teeth; however, for safe and predictable changes with dramatic results, there is no substitute for the dental office.
Are There Any Other Ways to Make My Smile Look Younger?
Bleaching is usually the first step to achieving a more youthful appearance to your smile. Not only can you brighten your smile through bleaching, but the physical appearance of your teeth can also be improved. Applying composite bonding, porcelain veneers or crowns to your teeth is the ultimate in dental makeover and cosmetic dentistry enhancements.
When these options were presented to one patient, she couldn't envision the immediate change the procedures would have on her smile. In front of a mirror, I showed her the gradual changes that had occurred over time due to the wearing and staining of their tooth enamel. The patient decided to have her teeth whitened and her front teeth artistically rejuvenated with porcelain veneers. When the patient went to work after the procedure was complete, her coworkers noticed a difference, but couldn't exactly identify the change in her overall appearance. They thought that she did something different to her hair or was losing weight. No one guessed that subtle improvements had been made to her teeth.
It's never too late to care more about your smile and make immediate improvements with a dental makeover. A small change today can enhance your smile for years to come.
By Benjamin O. Watkins, III, DDS