Cosmetic Dentistry for a Perfect Smile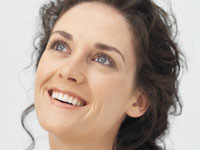 In most cosmetic dentistry practices, good health and sound oral function are their primary goals. But these days, both can be achieved with a third factor in mind, good looks.
Good looks are all around us. In consumer magazines, TV, media, politics, and business. Both men and women are flashing bright, near perfect smiles. It's a pleasure to see. We're not all born that way, and they probably weren't either. Dental makeovers have contributed to a large part of the self-esteem of models, movie stars, and recently, the grocery clerk or the grandmother next door, who seek cosmetic dental care.
Surprisingly, most tooth restoration procedures are fairly conservative. That is, removal of healthy enamel is kept to a minimum, or dispensed with altogether. Teeth bleaching, tooth bonding and contouring are quick, easy, and fairly inexpensive. Porcelain veneers lend new form and youthfulness to front teeth. Tooth-colored fillings can replace discolored amalgams. A new denture can restore a more youthful appearance. The choices are yours.
Notice the people you know who are proud of their teeth. They smile more often. Great teeth build self-confidence. Most people respond more readily to an attractive smile in a very positive way. The psychology is simple, the impact great.
We are lucky to have new materials and techniques that make a beautiful smile within everyone's reach. Take advantage of cosmetic dentistry, for yourself and the people around you.
Give your cosmetic dentist a call today to find out how your smile can benefit from today's technical innovations.
Do You Have a Perfect Smile?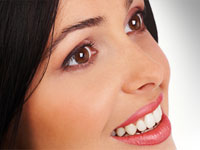 A healthy, beautiful smile should be part of your wardrobe. When you're getting dressed in the morning, don't forget that a perfect smile is a vital part of your total image.
Your smile is often the first impression people have of you. A psychological study reported in Perceptive Motor Skills found that people judged a person's physical attractiveness by "the mouth, eyes, structure of the face, hair, and nose" in that order!
What is "attractive?"
Psychologists have trouble defining "beauty." But they agree that beauty is important in every social relationship. For example, it was found that mothers cuddle their physically attractive babies more than their so-called "ugly" babies.
Take a moment to smile at yourself in the mirror. Do you have white teeth? Is your smile attractive, appealing? Or, is your smile weakened by cosmetic dental problems? Do you have a broken or missing tooth? If so, you can do something about it.
Cosmetic dentistry has made great strides in the last 20 years. Not only do cosmetic dentists make it possible for people to keep their natural teeth all their lives, they help people look and feel better about themselves.
You can change your profile
A cracked tooth, or stained and uneven teeth can be restored. Gaps between teeth, poorly positioned teeth or a jaw that recedes or protrudes, can often be successfully fixed with orthodontics. Did you know that dentists do 95% of all face reconstruction in this country? Through procedures called maxillofacial surgery or orthognathic surgery, many bone and jaw deformities or conditions caused by accidents can be corrected.
Developing a beautiful smile - even if you weren't born with one - is important at any age. Make your smile your strongest fashion asset.