Restorative Dentistry Treatments, Inlays And Onlays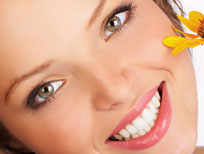 Dental inlays and dental onlays are valuable for restoring teeth that are severely decayed or worn. Typically, they are applied to the chewing surfaces on the back teeth.
What Is the Difference Between a Dental Inlay and a Dental Onlay?
In restorative dentistry, an inlay is used more like a filling for restoring normal tooth structure. It is best if the surface is small and only involves the chewing surface and surfaces between the teeth.
An onlay is similar to an inlay but treats larger areas, covering the entire chewing surface of a tooth. Dental onlays are recommended for larger tooth restorations and when chewing surfaces require long-term protection.
What Are Dental Inlays and Dental Onlays Made of?
Since both are used in areas of heavy chewing and grinding, they must be made from durable materials. They can be made from porcelain or composite resin chosen to match the color of your teeth or they can be made of a mixture of metals called an alloy. Alloys can be a mixture of metals like gold and palladium or nickel and chromium.
What Are the Restorative Dentistry Procedures for Dental Inlays and Dental Onlays?
The tooth is first prepared by removing portions of decay or damage. The remaining tooth structure is shaped in preparation for the dental inlay or dental onlay. An impression of the tooth is made along with opposing teeth and the bite. From this, a plaster model is formed that is used for a custom fit matching the contours of the tooth.
Since both dental inlays and dental onlays are custom-made, a second appointment is needed for checking the fit and cementing the inlay or onlay permanently. At that appointment, any adjustments to the bite will be made. A final polishing adds the final touch to this restorative dentistry treatment.
By Danine M. Fresch, DDS
Considering Porcelain Veneers?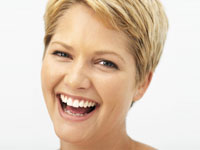 Maybe you've thought about cosmetic dental work - but felt a little vain to consider it.
Or the appearance of your teeth never bothered you much, because your dental health is pretty good.
But fixing a small functional problem can sometimes yield wonderful, unanticipated dividends. Mary, for instance, had a few dental imperfections most of us could live with. But she was hampered from time to time by a lispy "s" sound.
Mary had gapped teeth, a diastema, which caused a slight but noticeable speech defect. She also showed evidence of life in the fast lane, too: teeth worn down, probably from nervous clenching of the jaw muscles or grinding teeth.
In Mary's case - and every case is different - porcelain veneers saved the day. Her cosmetic dentist began with a functional and esthetic evaluation to determine what shape and contour would best solve Mary's diastema problem. More tooth length was proposed, to give her a more youthful, proportioned appearance, too.
Impressions were taken, and sent off to the lab for fabrication. On the next visit, her teeth were cleaned and etched chemically, the dental veneers were cemented into place, and "cured" with a special light to seal them.
Mary's speech problem evaporated. Dentistry fixed that. But cosmetic dentistry did more than perfect her speech.
WHEN FUNCTION = BEAUTY
Like an acrylic fingernail, veneers cover the front surface of the teeth.
Porcelain dental veneers
are strong and, by the way, look great.
As an architect of more that 60 years, I have learned that only the beautiful is practical. And universally, anything that is truly practical, functional, and useful is beautiful.
-Frank Lloyd Wright